Wireless mouse are a great thing that you can use your computer with. All of the wireless mouse have no cords, which means no wires on your workspace. You get what you want. Portability with no wire mess on your table. Also, you can take the wireless mouse anywhere thanks to the slim, sleek style and the amazing Bluetooth connectivity with full-fledged signals. If you are looking for a wireless mouse, check out our collection.
Logitech M350 Pebble Wireless Mouse is one of the best options among its competitors. It has some of the greatest features in it. Let's take a look at those features:
Modern, slim and amazing:
Achieve a minimal look of your working space by adding this beautiful mouse to your table. What makes this mouse even amazing is that it has no cords, which means no mess on the table. You don't need a bungee for it either. It looks too modern on the workspace. Moreover, it is too slim that you can take it anywhere with you. Just toss it in your traveling bag, and head out.
Silent Clicks with Superb Connectivity:
Work anywhere you want without worrying about the clicking sound irritating others. You will get the same feeling whenever you click, but with less noise. The rubber scroll glides so swiftly that it doesn't make any noise. In addition to this, connect this mouse with anything you want. Moreover, it can be your laptop, computer or tablet. You don't have to worry about the dropping signals thanks to the amazing Bluetooth connectivity with a 10 meters range.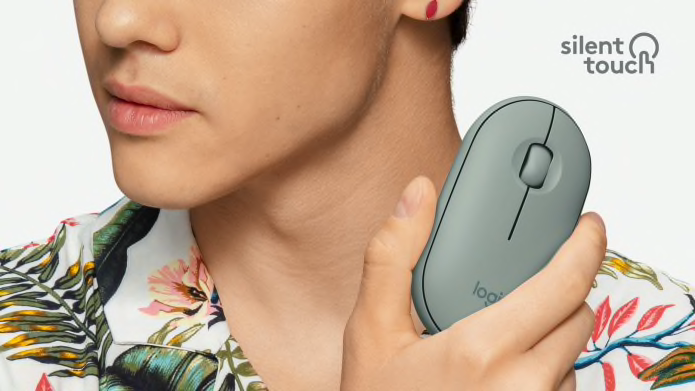 Long-Life Battery with Exciting Colorways:
You don't have to worry about losing the battery. It goes to idle when it is not in use. Also, it comes with 18-month battery life. Moreover, you can opt-out for a color that suits the aesthetics of your workspace. Also, you can match it with the PC and other peripherals of the whole setup.
What's up with the wait now? Check out our collection and order Logitech M350 Pebble Wireless Mouse from us and get this mouse to have a clutter-free workspace.