Anker PowerPort Atom PD 4 Port 100W Type-C Charging Station at the best price in Pakistan from Globalcomputers.pk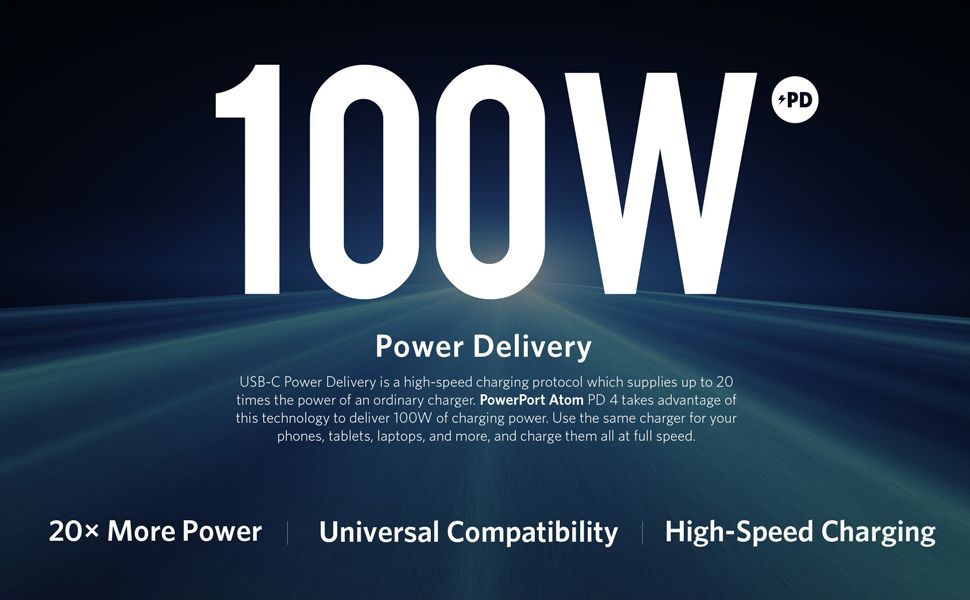 Universal Compatibility
With 2 USB-C and 2 USB-A ports with a 100W maximum output, PowerPort Atom> PD 4 charges virtually all USB devices—simultaneously.
Intelligent Power Allocation
Exclusive technology intelligently delivers charging power based on the number and type of connected devices.
Travel-Ready
Fits comfortably in a backpack or briefcase. Power up the entire family while on vacation, or charge an entire mobile work station on the go.
Model Number: A2041
PowerPort Atom PD 4
The Super-Powerful 100W Charger
High Accolades
Recognized as a Consumer Electronics Show (CES) Innovation Awards 2019 Honoree in the Computer Accessories category.
Charge More
Charge up to 2 laptops or USB-C tablets, and 2 smartphones or other devices at the same time with a record-breaking 100W of charging power.
Compatible with…
Phones
iPhone XS / XS Max / XR / X / 8 Plus / 8 / 7 / 6 ,Samsung Galaxy S9 / S9+ / S8 / S8+ / Note 8 / Note 7, Pixel 3/2/XL, Nexus 5X / 6P, LG G6 / G5, Moto Z
Tablets
iPad Pro 12.9'' / iPad Pro 10.5'' / iPad Pro 11'', Pixel C
Note: Use a USB-C to Lightning cable for Power Delivery fast charging for iPad models earlier than 2018, and all compatible iPhones.
Laptops
MacBook Air 13'' (2018) / MacBook 12'' / MacBook Pro 13'' / MacBook Pro 15''
Dell XPS 13, XPS 15, Inspiron 13, Inspiron 7000 / Huawei MateBook X, MateBook X Pro, MateBook 13 WRT-W29, MateBook E, MateBook D / HP Elite X2, EliteBook X360, Spectre 13, Spectre 15, Spectre 360, Spectre folio 13-ak0000tu / Lenovo ThinkPad X1, YOGA 730/ Google Pixelbook / Asus Chromebook Flip C302 / LG gram, and Xiaomi Air.
and More
Specs
Total Wattage: 100W
Input: 100-240V~ 2A 50-60Hz
USB-C Output: 5V ? 3A / 9V ? 3A / 15V ? 3A / 20V ? 5A
USB-A Output: 5V ? 2.4A Max
Size: 4.1 × 3.3 × 1.3 in (main body) / Weight: 383 g (main body)
Note:
Not compatible with Samsung Notebook 9.
The USB ports on this charger have an automatic detection function. If a cable is detected while the charger is not in use, it will remain in standby mode and continue to emit low levels of heat. The charger will no longer emit heat when all cables are disconnected from the USB ports.
This charger is compatible with Note 10 / Note 10+ / S20 / S20+/ S20 Ultra, but the charging speed may be slower than the original 25W charger.
This charger is compatible with Macbook 16″, but only supports a max of 82W when using an e-mark or stock charging cable.
This charger does not support charging for Apple Magic Keyboard.
Output distribution based on connected ports:
When connected to 1 USB-C port:
USB-C – 100W
When connected to 1 USB-C port and 1 USB-A port:
USB-C – 88W, USB-A – 12W
When connected to 1 USB-C port and 2 USB-A ports
USB-C – 76W, USB-A – 12W, USB-A – 12W
When connected to both USB-C ports:
USB-C – 50W, USB-C – 50W
When connected to both USB-C ports and 1 USB-A port:
USB-C – 44W, USB-C – 44W, USB-A 12W
When connected to all ports:
USB-C – 38W, USB-C – 38W, USB-A – 12W, USB-A – 12W
This video(s) is for guidance and usage purposes. For actual product, kindly check details & images above
Anker PowerPort Atom PD 4 Port 100W Type-C Charging Station at the best price in Pakistan from Globalcomputers.pk at Rs 25,299