Alienware AW2521HF Available at Best Price In Pakistan at Globalcomputers.pk for RS. 81000
Dell Alienware AW2521HF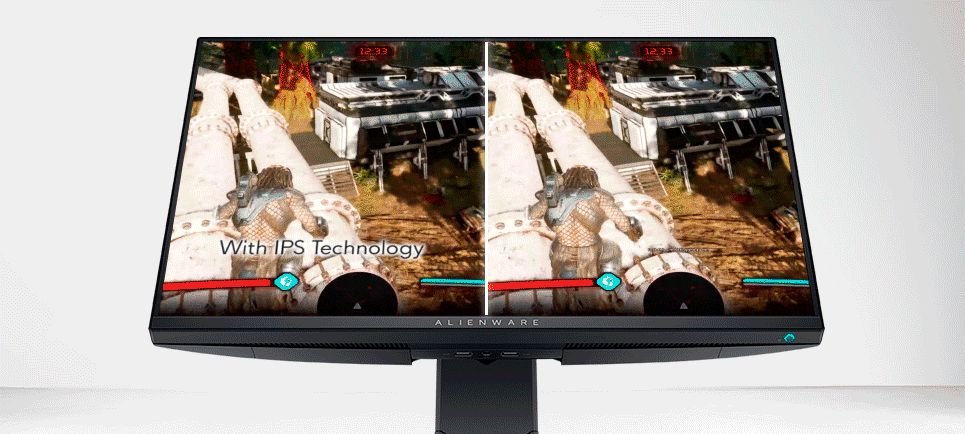 ACCELERATE YOUR REACTIONS
Lightning-fast:
Experience the best available in IPS Technology with native refresh rates of up to 240Hz.
1ms response. No gimmicks: A true 1ms response time blasts away ghosting and blurs for clear images with no artificial tricks needed.
Alienware AW2521HF
THE ULTIMATE COLOR COVERAGE
True colors, real speed:
New, fast IPS technology helps maintain image clarity from every angle of the screen. Plus, with up to 99% sRGB color coverage, you have a wide array of colors in your arsenal.
Best of both worlds: A 24.5" monitor combined with native FHD 1080p resolution provides the best pixel-per-inch ratio, so details are clearer and images are life-like, making the 24.5" form factor the ideal size for high speed gaming.
EMPHASIZE EVERY DETAIL
Experience a new level of clarity when in the heat of action. AMD FreeSync™ Premium and NVIDIA
©
G-SYNC
©
Compatible technology
i
synchronizes the graphics and monitor, so you get epic, tear-free images that don't slow down your gameplay.
DESIGNED TO PREVAIL
Keep your battle station sleek:
In a return to form, our Legend Industrial design is a new, bolder, sculpted, universal, minimal and iconic expression of the Alienware brand.
Play it your way: Incorporating feedback from professional gamers, the new stand with tapered legs allows you to turn your keyboard to any side angle so you can play the way you want it. And with the height adjustment marker, you can adjust your monitor to the perfect height as well. Plus, it's also optimized for the easy-to-use, one-click VESA mounting.
Stay cool under pressure: The unique cooling and venting design at the top, bottom and rear side of the monitor provides an optimized ventilation system, keeping the monitor cool during the most intense of battles.
Light it up: Personalize your gaming session with AlienFX—its fully customizable lighting system is engineered to bring you closer to the worlds you play in, with dynamic lighting effects tied directly to the in-game actioni and full RGB values.
Alienware AW2521HF
DYNAMIC ON-SCREEN DISPLAY
Stay in a gaming state of mind with a unique new gaming-centric menu with easy-to-use dashboard, plus customizable preset game modes, an FPS counter and guiding lines for a multi-screen setup.
PORTS & SLOTS
1. Power cable connector | 2. USB upstream | 3. USB 3.0 Gen 1 (x2) | 4. VESA mount | 5. USB 3.0 Gen 1 with Power Charging | 6. Headphone jack | 7. USB 3.0 Gen 1 | 8. HDMI (x2) | 9. DisplayPort | 10. Audio Line-Out
DIMENSIONS & WEIGHT
1. Height: 526.08mm ~ 421.21mm (16.58 inches ~ 20.71 inches) | 2. Width: 556.29mm (21.9 inches) | 3. Depth: 251.92mm (9.92 inches) | Weight (without stand – for VESA mount): 3.55kg (7.81 lb)
i
PEACE OF MIND, GUARANTEED
Our products are engineered with care and precision, so we guarantee support and peace of mind.
A BRAND YOU CAN RELY ON
As the world's number 1 monitor company
i
, we take pride in our unyielding commitment to quality and the utmost satisfaction of our customers.
PREMIUM PANEL EXCHANGE
Dell Premium Panel Exchange allows a free panel replacement during the Limited Hardware Warranty
i
period even if only one bright pixel is found.